Print A Frame On Canvas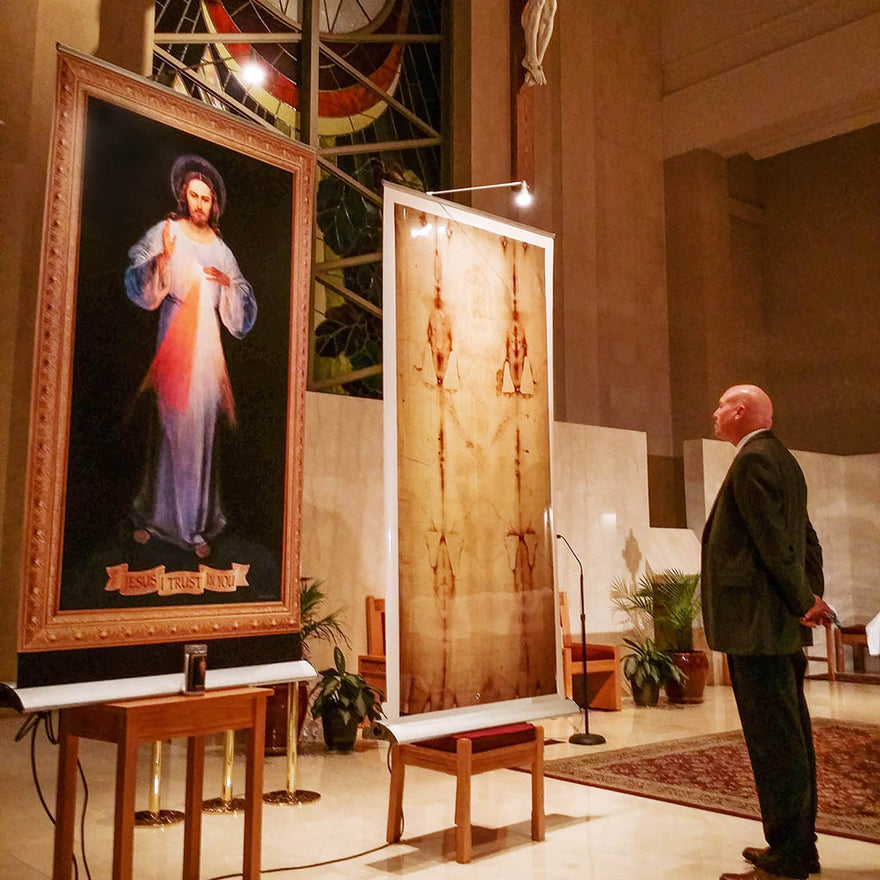 Divine Mercy traveling team Dave and Joan Maroney of Mother of Mercy Messengers (MOMM) came up with an innovative way to present the Restored Vilnius Image of The Divine Mercy. They directed us to print our 8483 frame around the borders of our canvas Image so they could roll it up into their banner presentation holder. Here is this story:
The banner style image of Jesus, The Divine Mercy (above) was a highlight and focal point at the Regional National Apostolic Congress on Mercy held April 24 – 26, 2015 at the Cathedral of Christ the Light in Oakland CA. The smaller image is the same banner at the National Shrine of The Divine Mercy in Stockbridge, MA.
This particular display was developed through a close working relationship between Dave and Joan Maroney of Mother of Mercy Messengers and Jim Mattingly who runs the divinemercyimages.com website.
Dave says:
"Jim is a printer and dear friend of ours and has been like a partner in our ministry work for many years. Through his talent and experience in print and graphic design, Jim was instrumental in bringing the first prints of the restored Vilnius Divine Mercy image to the world shortly after it was restored by the Cardinal in Vilnius in 2003. He continues to work at the highest level of skill. Jim is my 'go to' guy for advice on a wide gamut of disciplines including photography, lighting, video production, printing and more."
We have been traveling giving presentations for many years and for a long time we travelled with a life size image of the Divine Mercy with a beautiful gold frame, so at almost 4 feet by 7 feet, it was a logistical challenge to safely pack the image in the trailer with the other equipment and it simply wasn't possible to ship it when we flew to events, which was becoming more and more common.
We met with Jim and said we needed a lightweight, portable image for our presentations that retained the beauty of the life size gold framed image we were currently using. An idea arose to print a gold frame on a banner style image and see if that would work. Part of Jim's business is building frames so he actually built a life size frame, put it under flashes in his studio, took pictures of it and then photo-shopped the frame onto the Divine Mercy image. He then used some kind of special Fine Art canvas for the print and we could not be happier. The image is stunning and it is so easy to travel with and set up, while keeping the beauty and respect the Image deserves. I have seen a lot of Divine Mercy images in our travels and in my opinion, this banner style image presents the Divine Mercy image in a most beautiful way.
And now it is very easy to take the image when we make a driving tour to presentations, and when we fly, the image is packed in a travel case and either shipped UPS or checked at the airline ticket counter. We take this image with us everywhere we go. It looks awesome displayed in a church. You should see the look on people's faces when they get close to the image and discover that it is not a gold wooden frame but simply printed on the canvas.
Folks are drawn to the image no matter where we set it up and that was certainly the case in Oakland.
---